Product Description
AW3® Slim Light Vertical™ 2 – Laser Lipo combining with Cavitation, Vacuum and Radio Frequency handle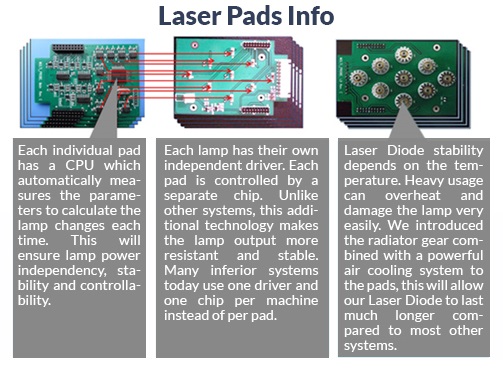 Laser Lipo is a non-invasive treatment that every salon and spa must have! Say no to Liposuction, surgery and crash diets. This new innovative laser technology will break down the fat cells and promote the triglyceride in the cells overflow. The fat cells are significantly reduced, achieving weight loss immediately. At the same time, the outflow of the glycerol and free acids are decomposed in part by capillaries and lymphatic microtubule, partly transformed into energy by movement, and partly excreted by the kidneys. The AW3 Slim Light can reduce from 5-15cm of body fat after a single treatment. The procedure is fast, relaxing and effective on any body parts without causing any side effects to the client.
Cavitation Handle
Ultrasonic cavitation hand piece will provide that extra result to your client compared to just Laser Lipo alone. The AW3® ultrasonic-cavitation technology converts fat cells into liquid which can then be naturally drained by the body's own lymphatic system.
Cavitation is an excellent treatment for customers that want to reshape their body to achieve cellulite reduction and fat loss
Radio Frequency handles (2 heads)

Radio frequency is used for non surgical facelift and body skin tightening, in another word wrinkle reduction and skin rejuvenation. 1 small head is to be used on small area such as face and a large head is used for larger area such as the body. There is no better technology to achieve greater results than Bi Polar RF for wrinkle reduction. Customers will highly prefer this treatment to botox or a tummy tuck if a good system and treatment technique is being used.
Vacuum Handle
Vacuum suction handle combined with Laser, making this the ultimate fat loss handle to remove stubborn fat such as fat loss for men.
Sizes and Dimensions
Machine Box: 68×63×114cm- 44kg
Part Box: 51×34×38- 7kg
Shipping Charging Weight: 112kg